Vincent Van Gogh in Drenthe
Vincent Van Gogh in Drenthe - 140 Years
& Museum of Contemporary Tibetan Art
Our Museum participates in Van Gogh 2023 project event. The Performing Artist and Founder of the Museum of Contemporary Tibetan Art Lama Tashi Norbu painted his own "blossoms" in Tibet, inspired by the Almond blossoms of Vincent, who wandered in Drenthe in 1883 where our Museum of Contemporary Tibetan Art is!
It is 140 years after, and we celebrate and remember Van Gogh! Honored that our Museum was the Ambassador of Van Gogh project. Leela Eleni Skitsa the Co-founder of the Museum along with Marja Rouwenhorst of the Museum Public Relations were there to celebrate the event along with the Province of Drenthe and the Municipality of Emmen!
Vincent van Gogh loved music very much. He hoped to touch people with his paintings and drawings, as music did to him.
In 1883, Van Gogh lived and worked for a few months in New Amsterdam/Veenoord.
He wrote to his brother Theo that he loved Drenthe – where our Museum of Contermporary Tibetan Art is – Drenthe landscape and the people.
These letters and the music that Van Gogh loved form the common thread of a special musical performance where we were Ambassadors of our Museum.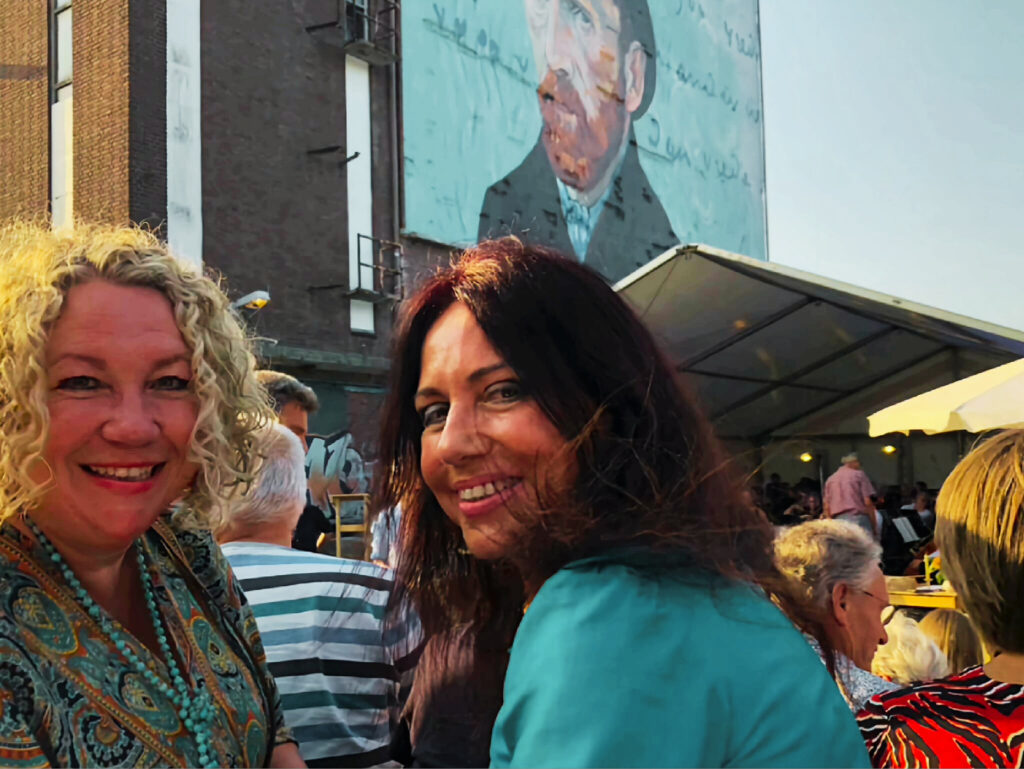 The Co-founder and Managing Director Leela Skitsa with the Museum PR lady Marja Rouwenhorst joined Van Gogh on this musical journey through time and immerse themselves in the emotional life of Vincent van Gogh and they also "wrote a letter to Van Gogh". Our Museum couldn't get any closer to Vincent.
Vincent van Gogh (1853 – 1890), Saint-Rémy-de-Provence, February 1890.
Van Gogh Museum, Amsterdam (Vincent van Gogh Foundation)
Large blossom branches like this against a blue sky were one of Van Gogh's favorite subjects.Almond trees flower early in the spring making them a symbol of new life. Van Gogh borrowed the subject, the bold outlines and the positioning of the tree in the picture plane from Japanese printmaking.
The painting was a gift for his brother Theo and sister-in-law Jo, who had just had a baby son, Vincent Willem. In the letter announcing the new arrival, Theo wrote: 'As we told you, we'll name him after you, and I'm making the wish that he may be as determined and as courageous as you.' Unsurprisingly, it was this work that remained closest to the hearts of the Van Gogh family. Vincent Willem went on to found the Van Gogh Museum.
Oil on canvas, 73.3 cm x 92.4 cm
Blossoms of Tibet by Lama Tashi Norbu
Exposed in our museum
Lama Tashi Norbu, inspired by the great Artist paints his own blossoms inspired by the apricot blossoms in Tibet. The apricot seed located within the forms has same shape as almond seed. And the Artist celebrates apricot blossom which decorate beautiful Tibetan villages. In Spring Tibet is full of this beautiful flora covering the valleys and just looking at them your breath is taken away…
The Artist uses Tibetan scriptures at the surface of the background.  He produces pigments for making the branches and the blossoms are formed by collage with sacred Tibetan scriptures pages.  His illuminating pink nuances give a glory to this painting recalling the blossoms of Vincent Van Gogh. A piece of art implying to the powers of nature, conveying joyful and romantic feelings, as well as love, peace and tranquility,  suggesting a great respect and appreciation to Mother Earth and Nature for the goods given  to all!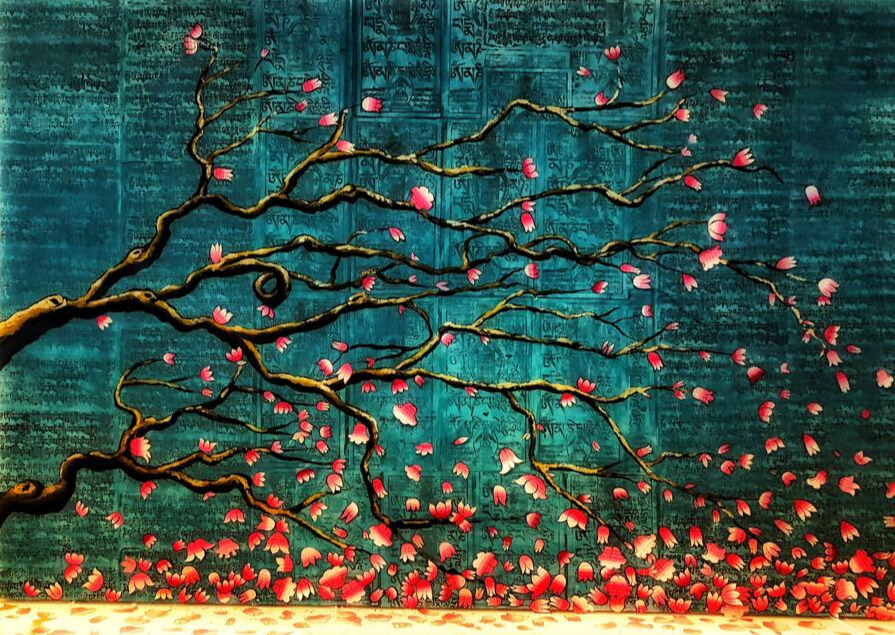 Dimensions 300×200. Mixed media on canvas – collage made out of Tibetan scriptures, acrylics and earth pigments. Emmen, 2023.